About Michael Berkley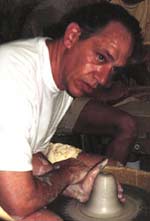 Michael served as resident artist and instructor at the University of Oregon, EMU; Instructor at Walnut Creek Civic Arts for 18 years teaching Raku, beginning/intermediate and advanced ceramics; Instructor at The Berkeley Potter's Studio; Director of Ceramics and instructor at Maude Kearns Art Center Eugene Or; Co-cordinator for the Portland Music Associations Mayor's Ball '91 '92; Coordinator and creator for the Portland Music Associations Crystal Awards; CEO of Avatar Records, responsible for charting three top twenty singles; Personal Manager for the musical group brydge, and has won numerous awards for his ceramic art and design.
Michael Berkley has been teaching and displaying his works for over 40 years. His interest in Archeology and Ancient Sumer started early in his career while attending UW - Oshkosh and continues to influence his work.
Michael's ability to express is shown through his wheelwork, sculpture and workshops. He is known for being a natural teacher with the ability to reach people at all levels of skill.
Michael has been in California for over 20 years and has been teaching at the Walnut Civic Arts Center for over 18 years and recently left Civic Arts and moved back to Oregon. Michael is unique in his teaching style and techniques for beginning students. He is able to teach them how to center 3 pounds of clay in less than 15 seconds and is often asked to teach his "anyone can center" workshops. Besides his love and commitment to new and all students, Michael teaches, intermediate, advanced and Raku classes
About