Anyone can center
OUT OF PRINT
Anyone Can Center is a 23 minute video that will show you how to center a 2 - 3 pound piece of clay in less then 15 seconds or until you really understand how easy it is...in a short amount of time.
The actual name of the workshop is: Anyone Can Center in less then 15 seconds or less.
This video is a rough edited directors cut. Because my workshops are for 'mature audiences' I have edited out some of the sound!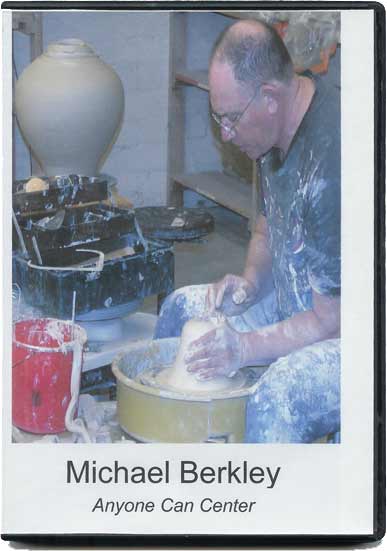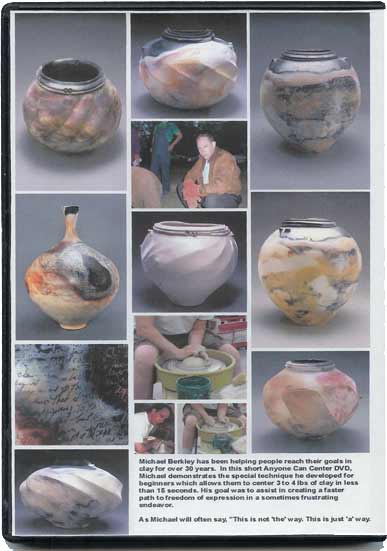 The video can be purchased for $19.95 which includes shipping in the U.S.A. Written notes are available for an additional $6.50.
You can e-mail me at: michael@pitfiredpottery.com
Reviews
Michael...Your centering video allowed me to start the video and center on the very first night. I guess I'm a slow learner because the other time I took a class, I never got the centering thing, but with your video instructions I "got it." I had to watch it about 5-6 times and that did it.
Now I need help with bringing the clay up and making something out of it. I threw a few things but my floor was too low and when I went to cut it off the bat my bottom disappeared. Still working on that. Tomorrow is my next class.
Do you plan to have another video on bringing the clay up and shaping things? The end of the centering video made it sound like there was a next step video.
I'd be interested in that too.
Anyway. I hope this feedback helps.
Thanks a bunch!
. . . Judy B
Michael...Monica and I made down back to Pt. Arena and had a few more beautifully perfect peaceful days in the woods. It truly took a couple of days to de-compress after such a great time. I will print out a couple of pix I took of you and send them along soon. In the meantime, thanks again, Michael for a great workshop. You are to be commended for atttending to all your students and especially for your hands-on, personalized help. I don't think I would have gotten it without that.
Just to let you know...the video is fantastic. Next time...let ALL the sound stay in! Makes it so much more fun! The video is not like being there but so much is in there in the short 23 minutes. Also, I don't care about the editing. It's fine...It shows me how to center and that's what I wanted. In the workshop, you showed how a 'brick' could center a piece of clay! After that...I knew that I could do it.

. . . Take care, Joan Z
Michael...
Enjoyed the video. I watched the video Friday, with a student. I would suggest at the end of the Opening section, showing a still photo with a good look at the profile. The camera angle was funny, and you couldn't get a great look at what the profile should be. If there is room on the CD, it would be nice to have some stills of the four positions for download. I plan to put some of the ones I took up for students to look at while they throw.
My student, who has never tried throwing, thought there was too much talking and not enough actual demonstration on the wheel. I'll show it to her again after she tries out the wheel, and see what she thinks.
Fantastic workshop!
. . . Carolyn C
Michael...
What a great workshop. Got home from a wonderful ride through the Redwoods! In midweek after arriving home I went into the garage to see how much I remembered from the workshop. Who would of thought that you could actually center a piece of clay in less than 15 seconds! NO WAY>>>WAY!!!
I can't tell you how your technique of having the arms and body in the correct position really does the trick. When it wasn't working for me I went in to view the video. And sure enough, my elbow was all over the place. Back on track now! The notes help too and I put each page in a protective clear cover. Thanks for sending me the color version in the PDF.
Looking forward to the next video and workshop...Oh...WHERE HAVE YOU BEEN! You would have saved me much time. I definitely would love to take a class where your teaching.
Until next time. . . Michelle W
Michael's pottery is available for purchase from this website or at shows. MIchael also teaches at the Civic Art Center in Walnut Creek, CA
Books