Classes

After being an instructor for 18 years at Walnut Creek Civic Arts, and also teaching at the Berkeley Potters Studio, I recently moved back to Oregon. I continue to miss my friends and fellow potters!
Currently setting up my studio here in the countryside just outside Portland, Oregon. I almost went back to Eugene but chose to be just outside Portland on six acres close to family. Asked frequently about private lessons up here: Yes, I will be doing that shortly. If interested you can email me for specifics.
NOTE: Mendocino workshop September or October 20th, 2012.
Classes Fall Term. I'll be teaching an intermediate / advanced wheel on Wednesday and a Raku on Friday.
NEW FALL CLASSES BEGIN in SEPTEMBER 2012
Sign up early for any of the classes or miss out on having a space!
Wednesday class starts September 2012
Friday class starts September 2012 - Two Raku classes. Jim Newton in the morning and I will teach the Friday Night Raku
After learning the basic quick center technique, the most often asked about is 'how to get the weight off the bottom'. There is a very easy way to do this. Practice and technique. The only other way I know of is....just stop throwing!.
Give me your "all" and I'll give you mine and we will make this happen.
Blasts from the Past
Our last dinner ware class was exceptional.
In Winter dinnerware class. This is a class that I only do once in a long while. Thanks to Rob, we have pictures!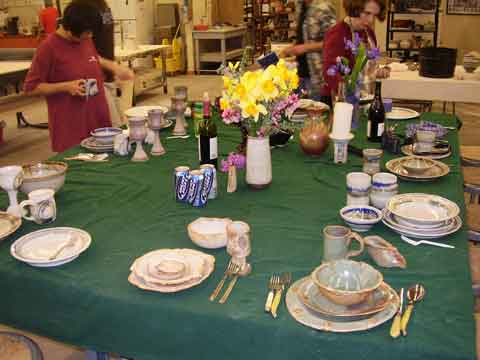 In the beginning of my journey I did a lot of production. The beginning of that road, which I didn't know at the time, began in 1968. By 1972, in Chicago, there was no turning back.
With either stoneware or porcelin I sat for hours on end making things.(It was then that I was 'thrown into teaching'). I just made things. All kinds of things. In those days, everything had to be perfect. Perfect. Perfect! So perfect in fact, that it took years to "undo" that pattern.
I have been asked many times how to make certain shapes and what those shapes require in weight. So this term, I've dug out all my notes on weights for dinnerware shapes. How much weight of clay do you need for a two quart pitcher? A 4 quart casserole? A 12" dinner plate? An Ice Cream Bowl? I hear questions like this all the time in the studio. It's been years since I have done any real high fire work. (Real for me: Making at least 36-100 of an item in one throwing period)
However, as you know, Life advances in spirals (sometimes circles!) and it is now time again, to make things for the house, my brother, and some friends. It's a time for me to revisit that area but with a different level of consciousness, (hopefully!), thus altering my perspective of the concept of "dinnerware". Should we assume that we want to eat from this ware? Hard to say....today.
I'm inviting only a certain few to travel with me for this 10 week class. You'll have to sign up early to grab a spot.
07 Winter Term Dinnerware class
MORE DINNERWARE Class Pictures.
classes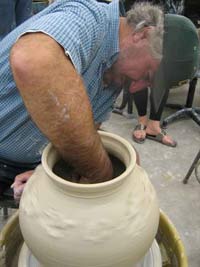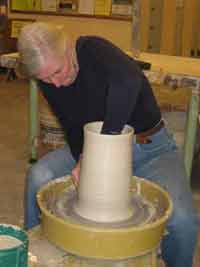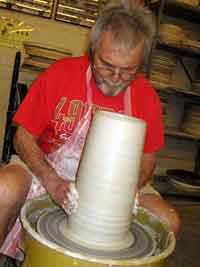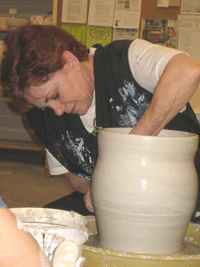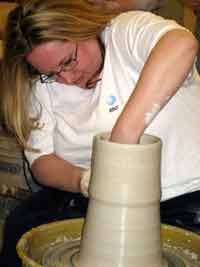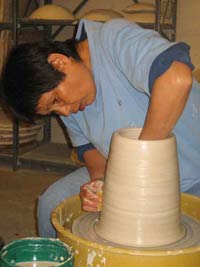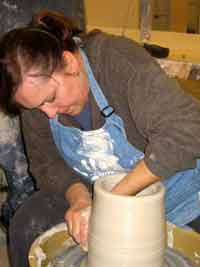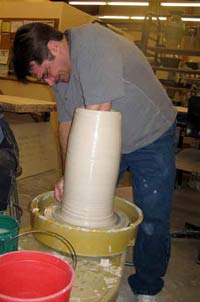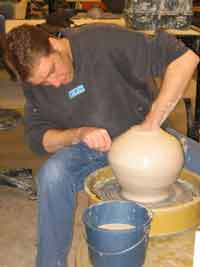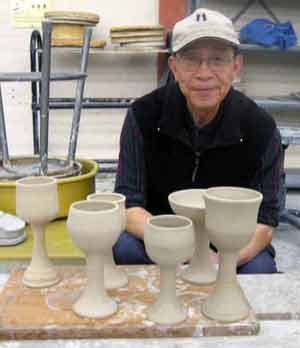 Fred showing off a bunch of Goblets contributed from the class!